Barbarians are on the march!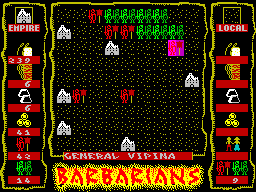 Two years after invading various Psion handheld computers, the barbarians are now about to carve out an empire in 16K on the ZX Spectrum computer. Your empire on your ZX Spectrum, that is. The game had its first public mention today on the World of Spectrum forums, inviting beta testers. If you're interested, please get in touch by email, to spectrum@cyningstan.org.uk.
Saturday, 1st December 2012
<!story>
See also...
Games
Other recent news
<!story-news-list>

<!content>