Micro Mart covers Intergalactic Space Rescue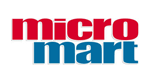 Recent release Intergalactic Space Rescue has been given a write-up in popular UK magazine Micro Mart, by regular writer and retro-fan Shaun Bebbington. Micro Mart is a weekly publication available from most good UK newsagents, and by subscription from its web site.
Micro Mart started as a classified ads magazine in the 1980s and it's nice to see that it's adapted well enough to survive into the eBay era. Nowadays Micro Mart includes articles and reviews to supplement the classified ads making it an interesting read, especially if you're also looking for a real Spectrum on which to play the latest Cyningstan release!
Shaun writes a regular retro-column for Micro Mart. Past articles have included a very good series on machine programming for the Z80, the processor at the heart of the ZX Spectrum. You can visit Micro Mart's web site at http://www.micromart.co.uk/.
Thursday, 31st January 2013
<!story>
See also...
Games
Other recent news
<!story-news-list>

<!content>